Navigating the trip reports and photo pages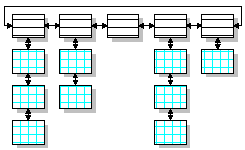 The trip reports and pictures are organized per area, as shown in the diagram on the left.
The links at the right will open a new window with the area report, left and right arrows navigate between the different trips and areas.

When a "Photo" button is present, this will take you to the first picture of this area. You can also click on the small photo's in the trip report itself.
Within one area, the pictures usually are grouped chronologically by visit, although this might not always be obvious. As you might notice, not all pictures are taken while paddling. I also visited some nearby places by other transport just to see if they were suitable for paddling, or to take pictures for this website.

I have included a coarse indication of the location of the areas with the links at the right, provided you know a few of the larger cities in the Netherlands. The trip reports and picture pages themselves are still the Dutch versions. I haven't had the time to create an entire set of English descriptions (yet).
Should you require any explanation or information on kayak or canoe trips in the Netherlands, please do not hesitate to send me an email.
About the pictures
To keep loading speed acceptable, I've compressed these photos quite a lot. Because of this, the quality is not as high as the originals, but I think they're still adequate to give a good impression of my paddling activities.
The originals, usually made with Canon G2 and S40 and Pentax Optio 33WR digital cameras at the highest quality JPEG setting are on average about a Megabyte each. On these, fine details as texts on signposts are still readable. The reduced versions are 720×540 pixels and between about 15 to about a 100 kbyte. An average modem will take about 5 to 10 seconds to load these, which I think is still acceptable.

Most pictures from the shore are made with the G2, those on the water with the S40 in it's WP-DC300 watertight housing, or since 2004 with the Optio 33WR, which is waterproof by itself. Only too bad an occasional droplet of water shows up.

(more pictures that are not in trip reports)