Welcome
This page originally was all about the Roland VS-1680 virtual studio, of which I own one. This information is still available under one of the buttons at the left side.
Paddling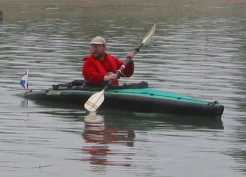 me in my Aerius I

The rest of this site, both the Dutch and English parts, are mainly about my Klepper folding kayak, with trip reports, tips and tricks. My boat is a singleseater Aerius-I Expedition I bought new in 1999, in spring 2003 I also was given a 1955 Aerius-II frame. I was hoping to get a reasonably priced skin for it and use as a cheap(ish) guestboat, but it would probably have taken a lot more money and effort than I was willing to spend to make a decent boat out of it, so I've abandoned the project and have given the frame away.
However, I kept looking for a reasonably priced twoseater, and about a year later I found a second-hand Klepper Aerius Quattro in mint condition. The asking price was very reasonable -although still quite high- for this type of boat in this condition, so now I'm a fleet owner.

Not much of this site is in English, although I might add some (especially when requested to do so...). I already have provided some backgrounds and history on those aspects of the Dutch landscape that might be of interest to paddlers from abroad.
There's also an introduction on how to navigate my trip reports and associated photo pages, which themselves are still in Dutch.

If you want any page translated, some other information on Kleppers, flatwater canoeing in the Netherlands, related issues or anything else, just drop me an email, and I'll see what I can do.

For those on Paddlewise that are still interested in a picture of two concrete canoes in a race, click here.

last update: June 11, 2004